Tutorials >

How to convert AVCHD to AVI, MPEG, MP4 (H.264), WMV, FLV, MOV and etc
AVCHD stands for Advanced Video Coding High Definition produced by Sony and Panasonic in 2006 for use in their digital tapeless camcorders. AVCHD files are often stored with a .mts, .ts, .m2t or .m2ts file extension. AVCHD is a high-definition digital video format that suports 1080i and 720p with a reasonably small file size. AVCHD is based on MPEG-4/H.264 video codec, and audio in AC3.
You may use Videozilla AVCHD Video Converter to convert AVCHD to AVI, MPEG, MP4 (H.264), WMV, FLV or MOV video format. Download and install Videozilla at:

https://netdna.videozilla.net/videozillasetup.exe
(Windows 7 (32/64-bit), 8 (32/64-bit), 10 (32/64-bit), 11 (32/64-bit)
Complete the setup. Then select AVCHD video files (.ts, .mts, .m2t, .m2ts) from Windows Explorer. Right-clicking the mouse and move the selection over to Convert to...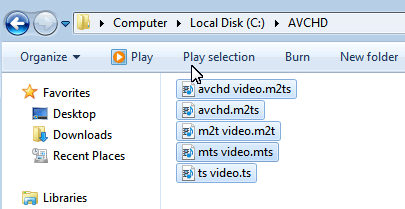 select avchd files from windows explorer
You'll be presented with the list of output format options. Select the format that you wish to convert AVCHD (.ts, .mts, .m2t, .m2ts) to:
AVI video file(s)
MPEG video file(s)
MPEG-4 video file(s)
3GP video file(s)
MOV video file(s)
WMV video file(s)
RM Video file(s)
Flash video file(s)
MP3 audio file(s)
WAV audio file(s)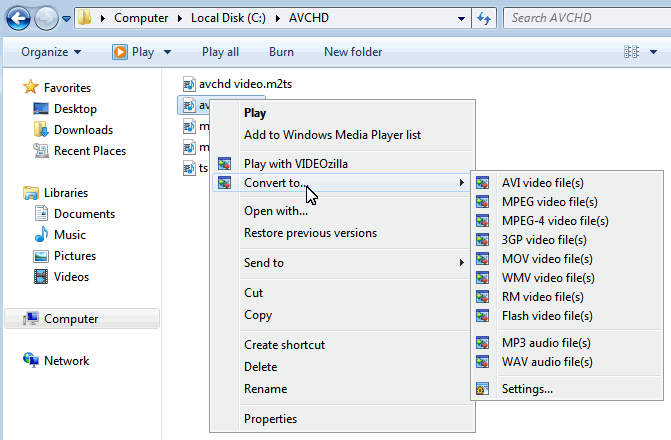 select the output video format
The AVCHD video conversion will be started and shall complete within a few minutes depending on the length of the AVCHD video.
Like what you see?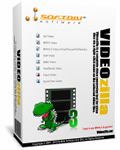 Buy Videozilla AVCHD Video Converter now (30-day money back guarantee)