Tutorials >

Article - How to convert AVI to MP4
Why do we need to convert AVI to MP4? MP4 video format is the most commonly supported video format on portable media devices like iPhone, iPad, Mobile, PSP, iPod and other MP4 player. Unlike AVI, MP4 video gives a high quality output and smaller in file size making it the preferred choice of video format in the modern portable media devices.
The following article will guide you the steps required in order to convert AVI to MP4 with Videozilla.
1. Download Videozilla here. Complete the installation and click on Ok button after Videozilla shows you how to use the software screen.
2. Browse your computer for the AVI that you want to convert to MP4.
3. Select the AVI files on your Windows Explorer (you may select more than one) and right-click the mouse.
4. From the right-click menu, move your mouse over to the Convert To... menu and click MPEG-4 video file(s).
5. The AVI to MP4 conversion will then started. The conversion will take several minutes depending on the AVI video length. Immediately after the AVI to MP4 conversion complete, Videozilla will open the converted folder. You may find the converted MP4 stored in this folder.
Tips:
1. You can run Videozilla MP4 settings by clicking on the Videozilla program icon on desktop and select Options.
2. MP4 settings will allow you to customize the MP4 compression to be used eg. MPEG-4 or H.264
3. You can also select one of the ready MP4 preset from the MP4 settings. Other advanced options include the MP4 bitrate settings, frame rate, audio quality and more...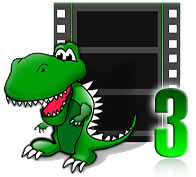 USD 29.95
Learn more about Videozilla