Tutorials >

Article - How to convert FLV to AVI
Videozilla can be used to convert FLV to AVI without any loss of quality and ease. Although FLV video format is commonly used on online streaming websites eg. Youtube and others, you may find it difficult to play back the FLV on portable media devices, portable video player, and even on your computer. To overcome this problem, we use Videozilla to convert FLV to AVI as AVI video format is widely supported on major operating systems and hardware.
Follow the following steps in order to convert FLV to AVI with Videozilla
1. Download the trial version of Videozilla. Simply follow the setup instructions to install Videozilla.
2. After installing Videozilla, close the how to use Videozilla screen.
3. On your computer, select the FLV video files to convert and right-clicking the mouse to select the output video format from the menu items.
4. From the list of output video format menu items, select AVI video file(s).
5. The FLV to AVI conversion will then started. The conversion shall be completed in a few minutes depending on the FLV video duration and resolutions. Right after the completion of the conversion, Videozilla will open the output folder for you. Converted AVI video will be saved in this location.
Tips:
1. AVI is a container video format. Therefore you can specify the video and audio compression to be used under the AVI settings.
2. Uncompressed AVI will create a full frame video without any loss of quality and frame but also resulting large output file size.
3. DIVX AVI is the best video compression to be used which will produce good quality video and also small output file size.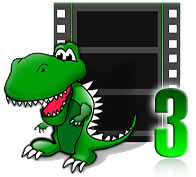 USD 29.95
Learn more about Videozilla